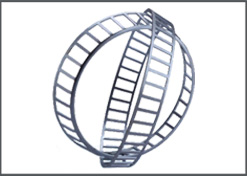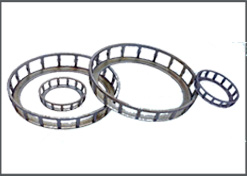 Cages have an appreciable influence on the suitability of rolling bearings. Their main purposes are
Keeping the rolling elements at an appropriate distance from each other and to prevent direct contact between neighboring rolling elements, in order to keep friction and thus heat generation at a minimum.
Keeping the rolling elements evenly distributed around the complete circumference to provide even load distribution and quiet and uniform running
Guiding the rolling elements in the unloaded zone, to improve the rolling conditions in the bearing and to prevent damaging sliding movements
Retaining the rolling elements, where bearings are of a separable design and one bearing ring is removed during mounting or dismounting
This ongoing experience of tooling has helped us to develop a new setup for manufacturing of bearing Cages and expand our Total Production capacity of 175000 / month.
All the tools are manufactured with stringent process control and 100% traceability of the carbides used for each die can be achieved. Moreover, our In House ERP system assists to maintain the entire process with all the necessary documentary evidence.
Enquiry